Cosmeceuticals and Your Skin
A cosmeceutical is a unique type of skin care product. Many diverse products fit into this category. Cosmeceuticals include:
Anti-aging products that can reduce wrinkles, smooth rough skin and brighten skin tone
Creams and lotions that can lighten skin
Sunscreen
What all these products have in common is the ability to change your skin in order to improve its appearance. These changes are subtle and may take months for you to see. While, cosmeceuticals don't product the results you'd get from a cosmetic procedure like injectable fillers, many patients like the results. They also like that they can apply a skin care product at home and see a change — without downtime and office visits.
ARE COSMECEUTICALS FDA-APPROVED?
The U.S. Food and Drug Administration (FDA) classifies all skin care products as either a cosmetic or a drug. Cosmetics do not need FDA approval, but drugs do. Some cosmeceuticals, like sunscreens, are drugs. Also, if your dermatologist writes a prescription for a therapy or treatment, that product has undergone FDA testing. The FDA does not review and approval over-the-counter cosmeceuticals, outside of sunscreens.
WHAT MAKES A COSMECEUTICAL EFFECTIVE?
Cosmeceuticals contain ingredients that can change your skin's cells. The ingredient could be a vitamin or plant extract. Many products contain more than one of these ingredients. Common ingredients found in cosmeceuticals are:
Retinoids
The word "retinoid" is a general term. In skin care products, you'll often find it listed as retinol or retinyl palmitate. If you need a stronger retinoid, your dermatologist may write a prescription for a topical medicine that contains retinoic acid.
Retinoids can stimulate our skin to make more collagen. They also can:
Reduce fine lines and wrinkles
Diminish dark or light spots
Reduce oiliness
Unclog pores, treating acne
Give skin healthier, more youthful appearance
Best time to use: Before bed.
Dermatologists' tips: When you start using a retinoid, apply a pea size amount every other night for several weeks. This helps reduce skin irritation. If your skin is very sensitive, mix the retinoid with a moisturizer. Your dermatologist can tell you how much moisturizer to add.
Retinoids should not be used if you are pregnant or considering becoming pregnant.
Vitamin C
Retinoids and vitamin C are both antioxidants. Antioxidants are important because they help prevent damage to our skin cells. Vitamin C also stimulates our skin to make more collagen. The more collagen our skin contains, the fewer lines and less sagging we see.
When added to skin care products, vitamin C (sometimes listed as L-ascorbic acid) may:
Soften fine lines and wrinkles
Lighten skin
Reduce signs of sun damage on skin
Best time to use: Apply in the morning before you apply sunscreen.
Dermatologists' tip: You should not use vitamin C if you have sensitive skin or rosacea.
Peptides and Stem Cell Extracts
Peptides are small proteins stimulate your skin. Stem cell extracts are newer molecules which can promote turnover of aging skin cells.
Both of these ingredients can help your skin to make collagen, elastin, and other substances more plentiful in younger skin. This can:
Reduce wrinkles and fine lines
Thicken skin, which can slightly diminish sagging
Firm skin
Improve skin strength
Best time to use: Before bed
Dermatologists' tip: Peptides and stem cell extracts do not irritate the skin. Patients with sensitive skin can use them.
Hydroxy acids
Alpha hydroxy acids (AHAs) are naturally occurring acids that can safely remove dead cells on the surface our skin. The AHAs used in skin care products include glycolic acid (from sugarcane), lactic acid (from milk), and malic acid (from apples).
You'll find AHAs in many skin care products including moisturizers and at-home peels. AHAs can:
Even out blotchy skin
Reduce rough texture and dryness
Diminish fine lines and wrinkles
Beta hydroxy acids (BHAs) can remove dead skin cells and calm the skin. Salicyclic acid is a common BHA. It makes an effective acne treatment because it removes dead skin cells that cause blackheads and whiteheads. Best time to use: Varies, use as directed.
Dermatologists' tip: Hydroxy acids remove the upper layer of skin. To protect your skin, apply sunscreen every day.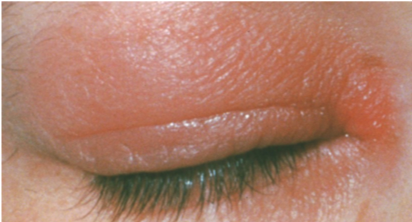 Allergic contact dermatitis
HOW CAN I TELL IF A COSMECEUTICAL WILL WORK?
Ask your dermatologist. An office visit can save you time and money. Dermatologists can recommend skin care products that have strong science behind them. Dermatologists know which products have proven to be safe and effective in human studies.
ARE THERE RISKS TO USING COSMECEUTICALS?
Probably your greatest risk is that the product will not work as expected. The claims made about some cosmeceuticals can be greatly exaggerated. You'll see this because the FDA only approves drugs and not cosmetics.
Other risks of using cosmeceuticals include developing irritated skin or a skin allergy. Asking your dermatologist for product recommendations helps reduce these risks. Your dermatologist can help you select products that are right for your skin type and will provide you with the desired results.
Some products sold as cosmeceuticals contain toxic substances like mercury or lead. To protect yourself, avoid buying products from unknown companies and foreign websites.
WHAT ARE DERMATOLOGISTS' TOP TIPS FOR USING COSMECEUTICALS?
Start with one or two cosmeceuticals. Using many products at the same time tends to irritate the skin.
You won't be able to tell what works or which products may be irritating. Sunscreen should be one of the first cosmeceuticals you use.
Wear sunscreen every day: Dermatologists agree that sunscreen is the most effective cosmeceutical you can buy. You'll want to use a sunscreen that offers:

SPF 30 or higher
Broad-spectrum protection
Water-resistance

A sunscreen that offers the above reduces your risk of developing premature skin aging and skin cancer. By applying daily, your body can repair some of the damage that the sun has done to your skin. Everyone has some sun damage.
Look for the following on the package: A toll-free telephone number allows you to call if you have questions after using the product. You also want to find the words "hypoallergenic" (low risk of skin allergy), "noncomedogenic" (unlikely to clog pores), and "nonacnegenic" (unlikely to cause acne).
Select skin lighteners carefully: Many cosmeceuticals can lighten dark spots and unwanted pigment on the skin. When looking for products, make sure you see one of these ingredients on the label: glycolic acid, hydroquinone, kojic acid, L-ascorbic acid (vitamin C), licorice extracts, N-acetylglucosamine, niacinamide (vitamin B3), or soy.
You want to buy a skin lightener from a U.S. company. Skin lighteners made elsewhere may contain mercury. To get the best results, dermatologists recommend using sunscreen every day. The sun darkens skin. For maximum protection, apply sunscreen that contains both of these ingredients — titanium dioxide and zinc oxide.
Apply products to clean skin and in this order. In the morning, first gently wash your skin and pat it dry. Then apply your products in this order: 1) cosmeceutical, 2) sunscreen or moisturizer with sunscreen, and 3) makeup.
Before bed, you want to gently cleanse and dry your face. Then apply your cosmeceutical.
Nighttime cleansing is essential. It removes makeup and skin care products. Product build-up can clog pores and cause acne.
Store it properly: Always store your products as directed on the package.
Check the expiration date: Expired products may not work.
Read and follow directions: This gives you the best results.
YOUR DERMATOLOGIST IS YOUR BEST RESOURCE
Cosmeceuticals give us another way to improve the appearance of our skin. Some can reduce signs of aging. Others help control acne. It can be difficult to know which products can help your skin look its best. Your dermatologist can help.
A board-certified dermatologist is a medical doctor who specializes in diagnosing and treating the medical, surgical, and cosmetic conditions of the skin, hair and nails. To learn more or to find a board-certified dermatologist in your area, visit aad.org or call toll free (888) 462-DERM (3376).



All content solely developed by the American Academy of Dermatology.

Copyright © by the American Academy of Dermatology and the American Academy of Dermatology Association.

Images used with permission of the American Academy of Dermatology National Library of Dermatologic Teaching Slides

American Academy of Dermatology P.O. Box 1968, Des Plaines, Illinois 60017

AAD Public Information Center: 888.462.DERM (3376) AAD
Member Resource Center: 866.503.SKIN (7546) Outside the
United States: 847.240.1280
Web: aad.org
Email: [email protected]